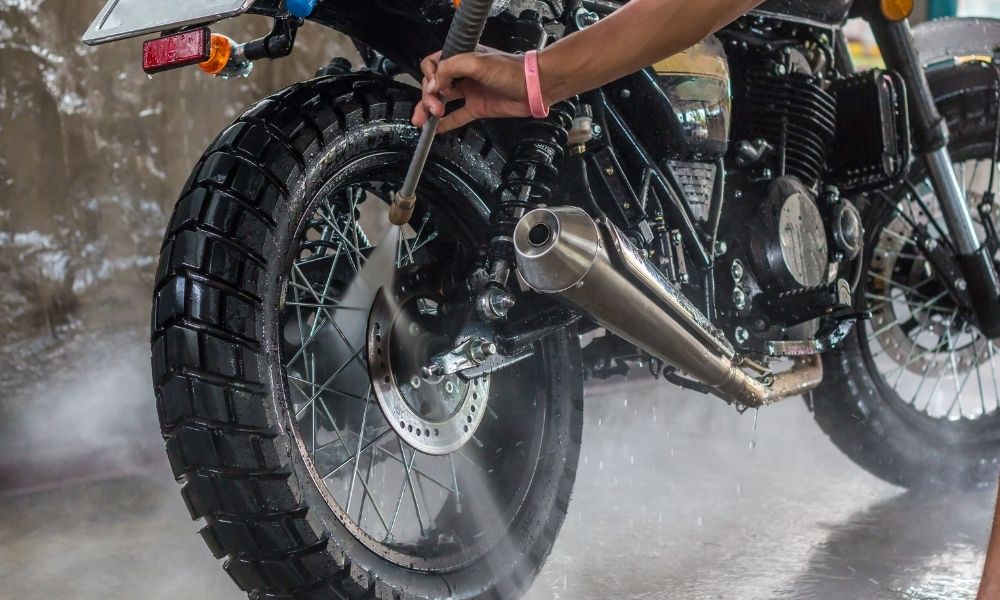 Knowing how to detail your motorcycle correctly is essential to keeping it in excellent shape. However, quite a bit goes into that, making it challenging to get started.
Luckily, we're here to help with this detailed guide on all the tools, products, and techniques you should use when cleaning your bike. Delve into some of the basics so that you achieve fantastic results.
Designate and Prepare Your Cleaning Area
Before you start detailing, you need to designate a specific area to use. Garages, storage units, and other similar places are ideal for auto detailing. This is because they're climate-controlled and well-protected from the elements. So consider these characteristics when selecting your space.
Once you land on an ideal spot, the next step is preparing the area for cleaning. Rinse any pavement or flooring beforehand to reduce the risk of dirt contamination. Then, clear away any additional debris like leaves, pet dander, or anything else that might stick to your motorcycle as you work. Doing this will ensure that your hard work doesn't go to waste.
Don't Skip Over Your Pre-Wash
When feeling out how to clean different parts of your motorcycle, don't underestimate the power of a solid pre-wash. To pre-wash your motorcycle, all you need is a clean bucket filled with fresh water and your choice of a terry cloth, sponge, or microfiber mitt.
Then, use your tool of choice to rinse your motorcycle entirely. The idea is to loosen any dirt or grime sticking to your bike so that it's soft and easy to scrub away later. As a result, you create smoother surfaces and a cleaner finish when all is said and done.
Deep Clean Your Bike
Once you prime your bike, it's time to get down to the nitty-gritty. In other words, you'll be ready to start the process of deep cleaning your motorcycle. An essential factor in this part of the equation is having the right tools for the job. Top-tier motorcycle detailing kits will include at least the following items:
pH Balanced automotive shampoos
Microfiber mitts and terry towels
Top-quality wax and metal polish
Foam applicators
Of course, some like to keep tools like fine-bristle brushes, orbital polishers, and engine brighteners handy, too. In any case, when you're ready, lather your microfiber mitt with a mix of clean water and soap. Then, start scrubbing your bike down. Once you're satisfied, grab your fine-bristle brush, and clean any grime on your tires, wheels, and chrome features.
Give It a Thorough Rinse
Next, it's time to give your motorcycle a thorough rinse. Your bike will still have a coat of soap, oil, dirt, and grime covering it. Thus, you must be extra careful when using your hose to remove the remaining lather. Make sure you get every nook and cranny and double-check afterward to be safe.
From there, use a shammy or soft cloth to dry everything off. Before moving on to the next phase of your detail, ensure that you sop up all excess moisture adequately. This will protect your paint from particles that might scratch it during the polishing and waxing stages.
Polish the Paint
From orbital tools to clay bar applications, there are numerous methods for polishing your motorcycle. Which one you use in your work is entirely up to you. However, if you're in a position to do so, we suggest using an orbital polisher.
Best Tools for Polishing
Orbital tools make quick and easy work of thoroughly polishing your motorcycle, which is why they're an ideal tool for extensive detail work. But the proper tool isn't enough; you'll want to select the best products, too. Make sure you pick an appropriate polishing agent and applicator pads. Once you have the proper supplies, attach your applicator, plug in your tool, and get to work.
Benefits of Orbital Polishers
Orbital tools ensure that the polish is evenly distributed so that you get maximum shine. Plus, you don't have to worry about the proper hand motion, as the tool handles this for you as well. After you polish the body of your bike, you can move on to the next detailing stage—waxing.
Apply a Quality Wax
Waxing can be easy to overlook when learning how to clean different parts of your motorcycle. After all, at this point, you've already put a significant amount of effort into cleaning it. But if you want to keep that marvelous shine intact, solid waxing is necessary.
Necessary Products for a Good Wax
There are numerous waxes on the market, all at different levels of quality and price range. But if you're looking to achieve maximum protection and shine, go ahead and bite the bullet—invest in a high-quality wax. Moreover, make sure you have buffing pads handy to help you with the application.
What the Waxing Process Entails
For the best results, coat the painted surface areas of your bike with a thin layer of wax. Depending on what kind of product you're using, you might need to let it settle into the paint before buffing it out. After the wax is evenly distributed, make circular motions with your buffing pad until you see an even, illustrious coating begin to form.
Brighten Your Engine
A top-tier motorcycle detail wouldn't be complete without some excellent finishing touches. More specifically, if you want even the most minute features of your bike to shine, don't forget to add some engine brightener to your supply list.
Engine brightener is a specially formulated product used to clean your bike's smaller or more sensitive areas (without damaging them). To use it, spray the cleaning agent on your:
Engine
Cylinder fins
Covers
After you spray them down, wipe these areas with a soft cloth and enjoy a vibrant, healthy finish on these features of your bike.
Pro Tip: Be careful not to overspray these products. Engine brighteners are typically silicone-based, which can make your footboards and brake pedals slippery if used too liberally.
Giving your motorcycle the detailing job it deserves requires time and effort. But taking the proper steps to get the best clean is worthwhile. After all, it ensures that your bike is well-maintained, adequately protected, and beautiful.
We hope this comprehensive guide sheds some light on basic motorcycle detailing requirements. And remember, if you're looking to expand your detailing kit, Sky's the Limit Car Care has got you covered with our extensive selection of products and tools.