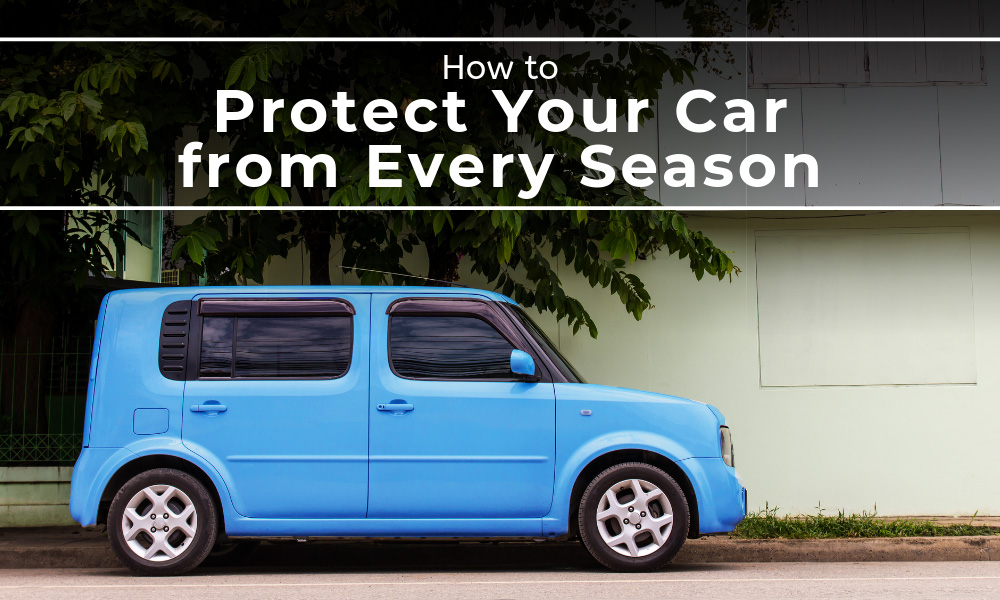 No matter the time of year, weather can pose some major threats to your car. Whether it's a torrential downpour or the blistering heat, each type of weather condition can lead to a plethora of issues for your ride. Don't let these potential hazards stress you out. Here are some simple and effective ways on how to protect your car from the weather.
Extreme Heat
Not only is extreme heat uncomfortable, but it can cause challenges for the surfaces of your vehicle. Here are some preventative measures you can take to avoid potential threats.
Park in the shade
One way to avoid the sun's harmful effects is to simply park in the shade if you will be leaving your car out for hours but be aware of what your parking beneath! Parking beneath an area where birds congregate can end up with far more damage to your paint than the sun causes and it can happen in minutes. Furthermore, sap can be an issue with some trees while certain types of leaves and pollen can cause staining if left to sit and dry on a wet car that isn't protected or cleaned up soon after.
Use a windshield sun shade
If parking in the shade isn't an option, a windshield sun shade is a great choice to assist in protecting your interior surfaces.. It will greatly lower the internal temperature of your car, while preventing nasty side effects from extreme heat. Best of all, these are easy to use and are available in a wide variety of stores.
Check your car's cooling system
Avoid any potential issues by making sure your cooling system is in tip-top shape. Check out the belts, as well as the coolant. Be sure to change these regularly.
Rain
Rain may provide a calming ambiance, but when it comes to your car, it can wreak some major havoc. It's not necessarily the rain that is the issue but rather all the other materials that are "re-activated" when wet or spit up onto your vehicle by the rain. Oil, dirt, high ph chemicals, acids, solvents, abrasive sand, and salt can end up on your vehicle. And when the water evaporates from the surface there is a HIGH likelihood those materials will be left behind in the form of the dreaded "water spots"! When the rain and all its evils hit, here's how you can best protect your car from this weather.
Wash and wax
Take the proactive measure of washing and waxing, sealing, or coating your car. This serves to protect your car by creating a barrier between the car's paint and the rain and dirt that is left behind. It will help release the dirt easily next time you wash and provide a sacrificial barrier to help protect the paint in the mean-time. Use only the best cleaning products possible to ensure you get the highly protective barrier you're looking for. To avoid scratching it up even more, use a professional grade car wash mitt, as that will be the gentlest on your car while still removing dirt and grime.
Seal any openings
There are few things as detrimental to the interior of a car as water damage. Prevent rain from getting inside your vehicle by ensuring all openings are perfectly sealed. Check out the rubber linings on doors, and immediately repair any that become damaged. For any windows or sunroofs, always double-check that you completely close them—it's all too easy to accidentally leave one open a crack.
Blizzards
When bad weather comes to mind, one automatically conjures up an image of extreme blizzards. This is a fitting worry, as snow can cause headaches for car owners. But there's no need to fret—here's how you can prevent the worst damage from happening.
Place a towel on your windshield
There's nothing worse than having to wake up early to scrape off all the ice and snow that accumulated on your car overnight. Avoid this early-morning hassle by simply placing a towel over your windshield. Just lift your windshield wiper, place the towel over the windshield, and put the wiper back down to hold it in place. That way, when you take the towel off in the morning, the snow will go with it.
Check your tire pressure
It's essential that your tires are in perfect working condition when you're expecting a blizzard. When cold weather hits, the pressure can get lower. Combine this with dangerous, snowy roads, and it can cause several issues for your car and your safety. Circumvent this by checking the tire pressure often and fill it as soon as you notice it dipping too low.
Snow tires
For those that live in areas that experience more frequent snowstorms, snow tires may be the way to go. These tires increase traction, reduce snow buildup, and stay steady in even the iciest conditions.
Extreme Cold
Any extreme temperature changes will affect your car, and this includes the extreme cold. Even if there is no snow or ice, those frigid temperatures can do a number on your car. Don't wait for the cold weather to hit—take preventative measures to avoid any damage to your car.
Check the battery
If your battery isn't in tip-top shape, winter can spell disaster for it. Batteries work harder in the winter, making it much more likely for worn ones to stop working. Check out the battery's health before the coldest days of winter start, so you won't have to worry about your battery giving out.
Fix any windshield cracks
Have any windshield cracks that need fixing? While they may not seem like a big deal now, come winter, they can get much worse. The colder temperatures cause the glass to contract, which could potentially make the cracks spread. Make sure to repair these before the coldest weather hits.
Get special wiper fluid
Sometimes, using your wipers in the winter can feel like a fruitless endeavor. Stop the freeze and forgo the streaks by investing in a winter-specific wiper fluid. These will include antifreeze properties, so you won't have to worry about your windshield becoming filthy.
Around 80% of the time, seven-day forecasts accurately predict weather conditions. As such, there's ample time to prepare for the worst-case scenario. When it comes to your car's condition, it's all about being proactive, taking preventative measures, and using quality products. While you can't avoid every unfortunate outcome, you can take steps to keep your car looking great and working even better.